Welcome to my Online Gallery
In my Website you will discover my world of Art and acquire my fine pieces.
Decor your home with pieces that will expand the limits of your consciousness...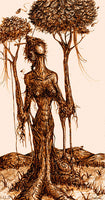 This ink drawing represents the connection with Mother Earth, extending her branches to the sky with strength and gratefulness to the Creator.
Raíz de Vida / Roots of Life